MuscleTech
Regular price
Sale price
$39.00 SGD
Unit price
per
Sale
Sold out
In stock
Thanks for signing up for restock notifications!
There was an error signing up for restock notifications. Please try again.
Sign up for Restock Notifications!
✅ 10G CREATINE‡
Creatine is found naturally in the muscle cells and helps your muscles produce energy during heavy lifting or HIIT exercise.

✅ 200MG ALA‡
Alpha lipoic acid is a premium antioxidant. It helps your body metabolize carbs and supports energy levels.

✅ 5G AMINO + BCAA MATRIX‡
The building blocks to support rapid recovery. With BCAAs as your foundation, you'll have better strength gains.
‡ Based on a 2-scoop serving

✅ ULTRA-PURE & CLINICALLY VALIDATED
Cell-Tech® is a scientifically advanced, latest-generation creatine formula featuring a clinically validated blend of HPLC-tested, ultra-pure creatine monohydrate and carbohydrates.

✅ INCREASE STRENGTH, MUSCLE SIZE & FULLNESS
Delivers a researched combination of creatine monohydrate and carbs, triggering an insulin spike post-workout, transporting creatine straight into muscle while rapidly replenishing glycogen stores.

✅ FAST MUSCLE GROWTH & ENHANCED NUTRIENT TRANSPORT
Cell-Tech® delivers 10g of pure creatine per 2 scoops, reducing recovery time between sets and amplifying strength. Plus, research suggests that ALA improves the absorption of creatine and glucose.

✅ MUSCLE-FUELING BCAAS & CELL-VOLUMIZING AMINOS
Quickly digested and absorbed, this formula supplies a 2:1:1 ratio of BCAAs, plus taurine and alanine – two of the most abundant amino acids in muscle, which aid in cell volumizing.
Share product link
View full details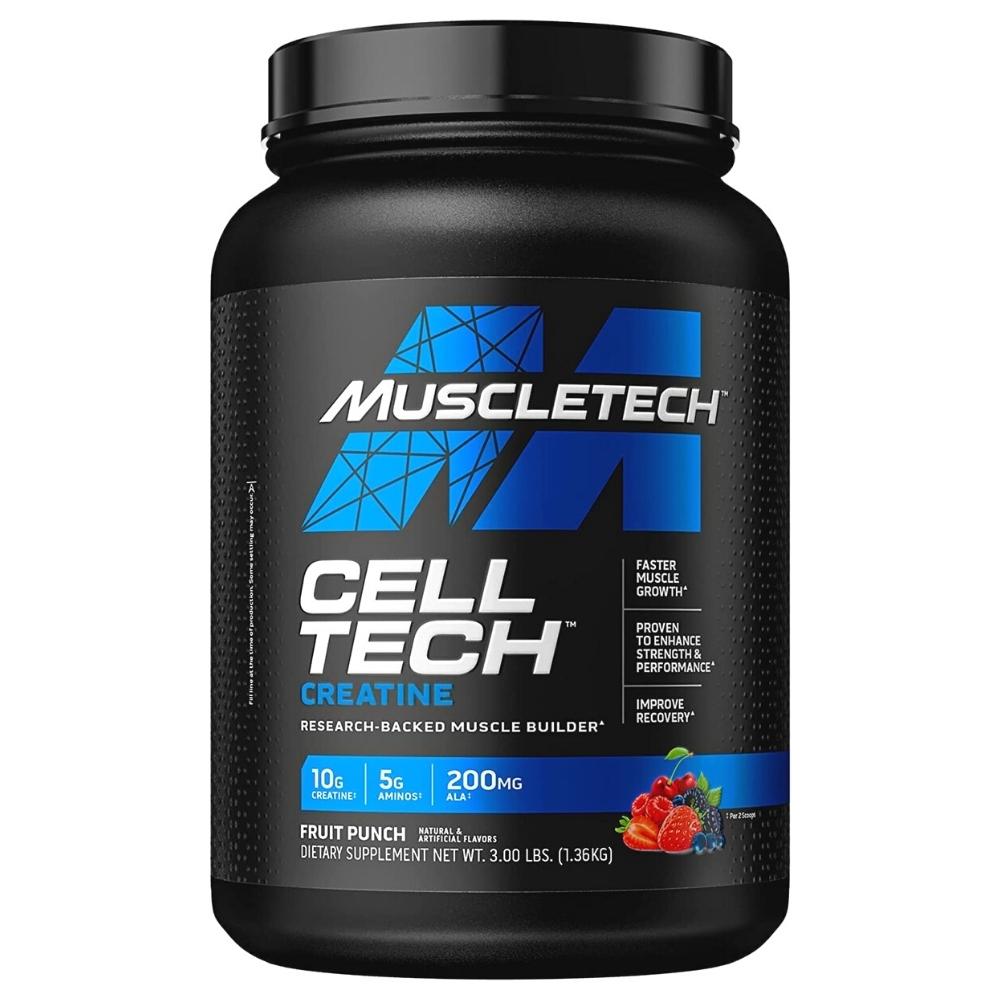 More Product Info
Expiry Date

As shown in format xMM/YY. e.g. x05/99 for best before May 2099. Our stock's expiry status are 99% accurate.
Great taste and effect
Fruit punch taste good and have good effect
First time
First time trying muscletech creatine formula..orange taste good. Abit on the sweet side nonetheless tastes good and digestive fast too.
Cell tech review
Cheap,responsive, fast delivery highly recommended
Really Works!!
Awesome post workout recovery drink. Taste really good. Especially orange. Very good product and using this as the my main creatine supplement.