ALLMAX
Regular price
Sale price
$5.00 SGD
Unit price
per
Sale
Sold out
In stock
Thanks for signing up for restock notifications!
There was an error signing up for restock notifications. Please try again.
Sign up for Restock Notifications!
 Infused with Spirulina, Spinach & Barley Grass
✅ 21x the Green Nutrients of Dark Leafy Greens‡
✅ Improves Energy Levels
✅ 14 or 60 Servings Per Container

✅ Eat Clean, Be Strong With Premium Super Greens
Cytogreens green powder mix is an Ultra-Concentrated Premium Green Superfood powder with double the amount of green ingredients as leading "greens" supplements. Loaded with Chlorophyll-Rich Green Superfoods like Spirulina, Cracked-Cell Chlorella and Ultra-Fine Premium Japanese Matcha Green Tea.

✅ Cytogreens greens powder contains our exclusive nutrient-rich, Green Performance Matrix to enhance performance, recovery and help the body recycle energy more efficiently while exercising. Better still, you get the dark greens and color-rich, anti-oxidant berry nutrients your body needs!

✅ Increased Energy, Greater Endurance & Improved Recovery
AER is a Natural Blend of 4 Key Botanical Extracts that may help reduce oxidative damage resulting in improved recovery. In creating Cytogreens, we focused on highly concentrated, truly green, nutrient-rich raw-sourced foods in amounts suitable for athletes who demand more from their bodies.

✅ Packed with High-ORAC Antioxidants; Fiber-Rich Omega 3 EFAs; 8-Enzyme Cytozymes to maximize absorption; and a Best-of-Breed, Endurance and Stamina blend, with Cordyceps, Panax Ginseng, Reishi Mushroom and Astragalus.

✅ Increases Muscle Performance, Cardio Endurance & Reduces Fatigue
Cytogreens increases the ability of the body to move lactic acid out of the muscle where it is recycled by the liver as more fuel in the form of glucose. This reduces soreness, increases muscle performance and maximizes endurance.
Share product link
View full details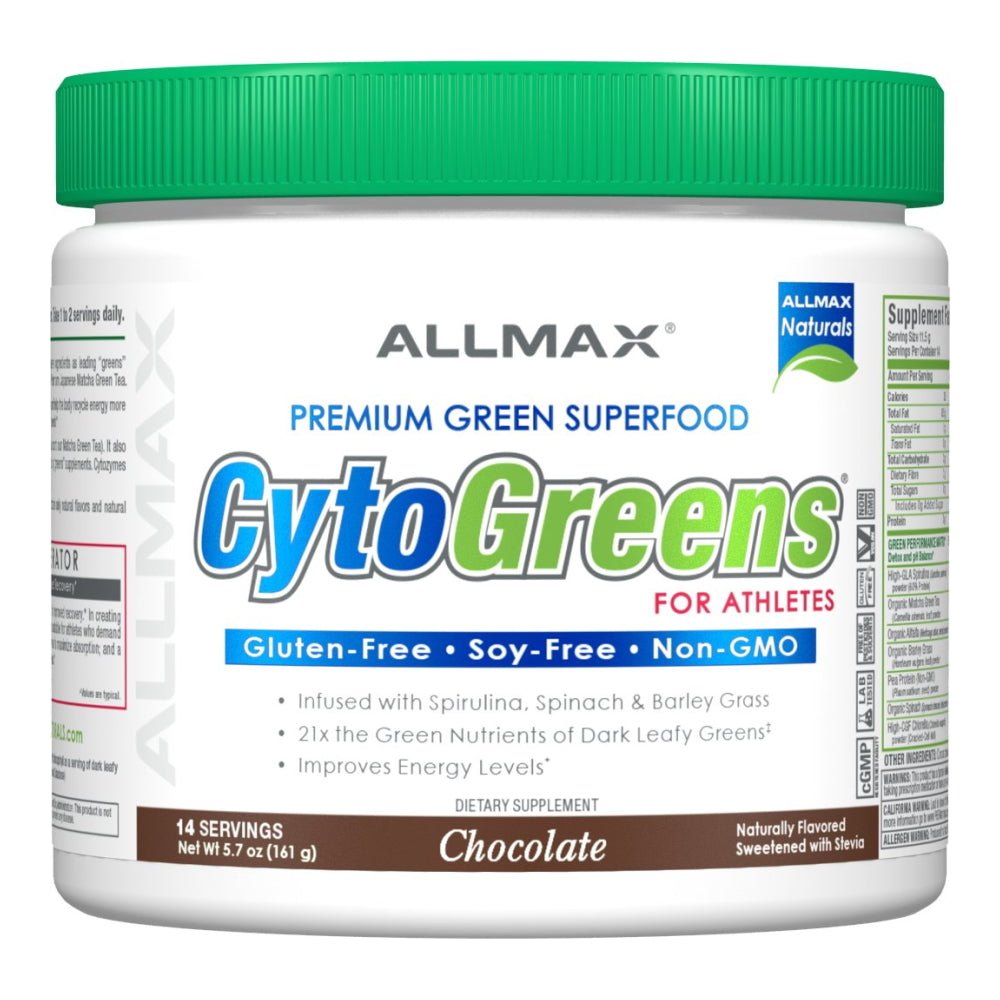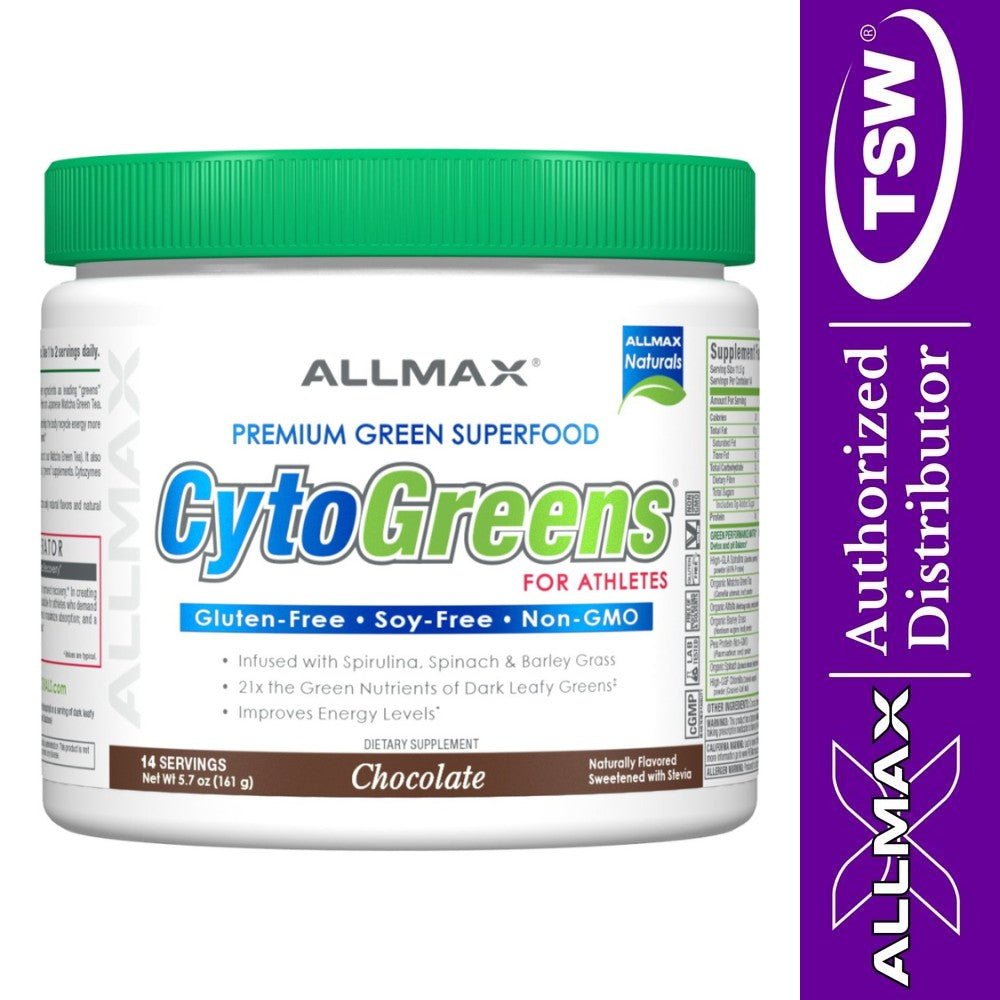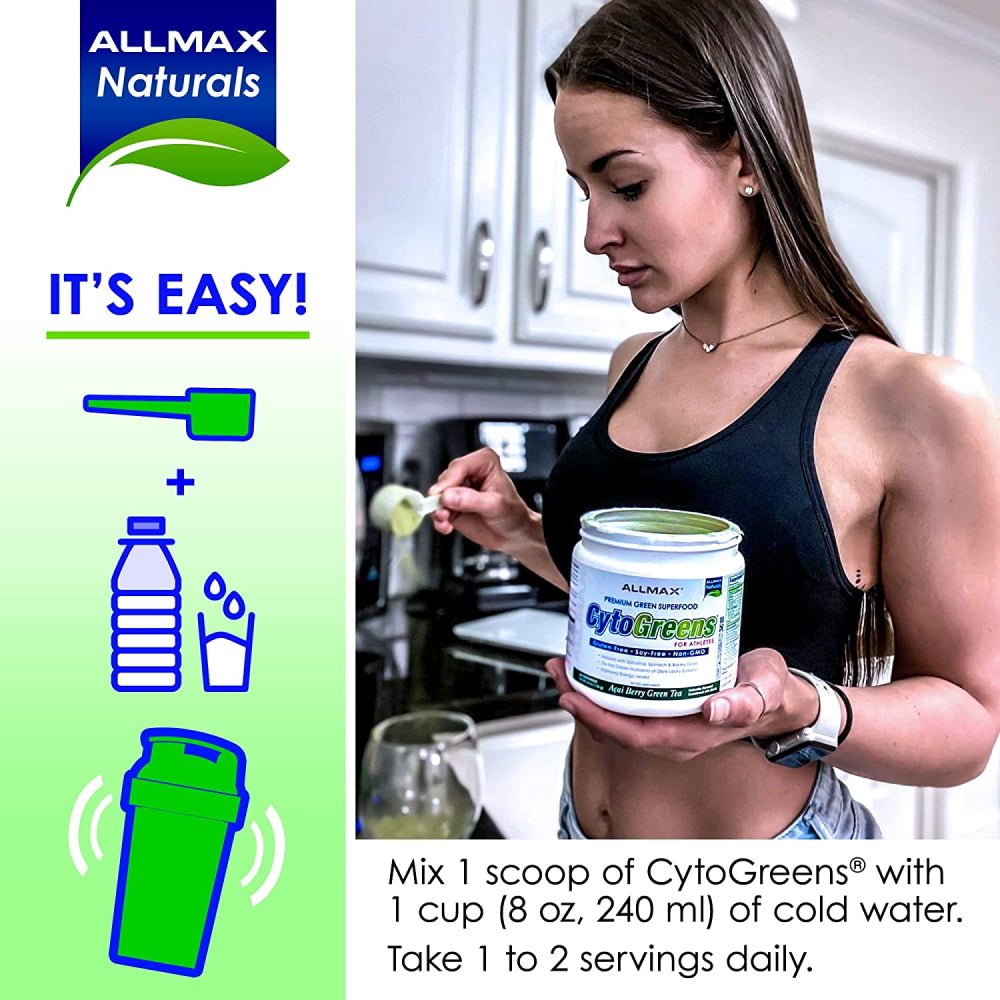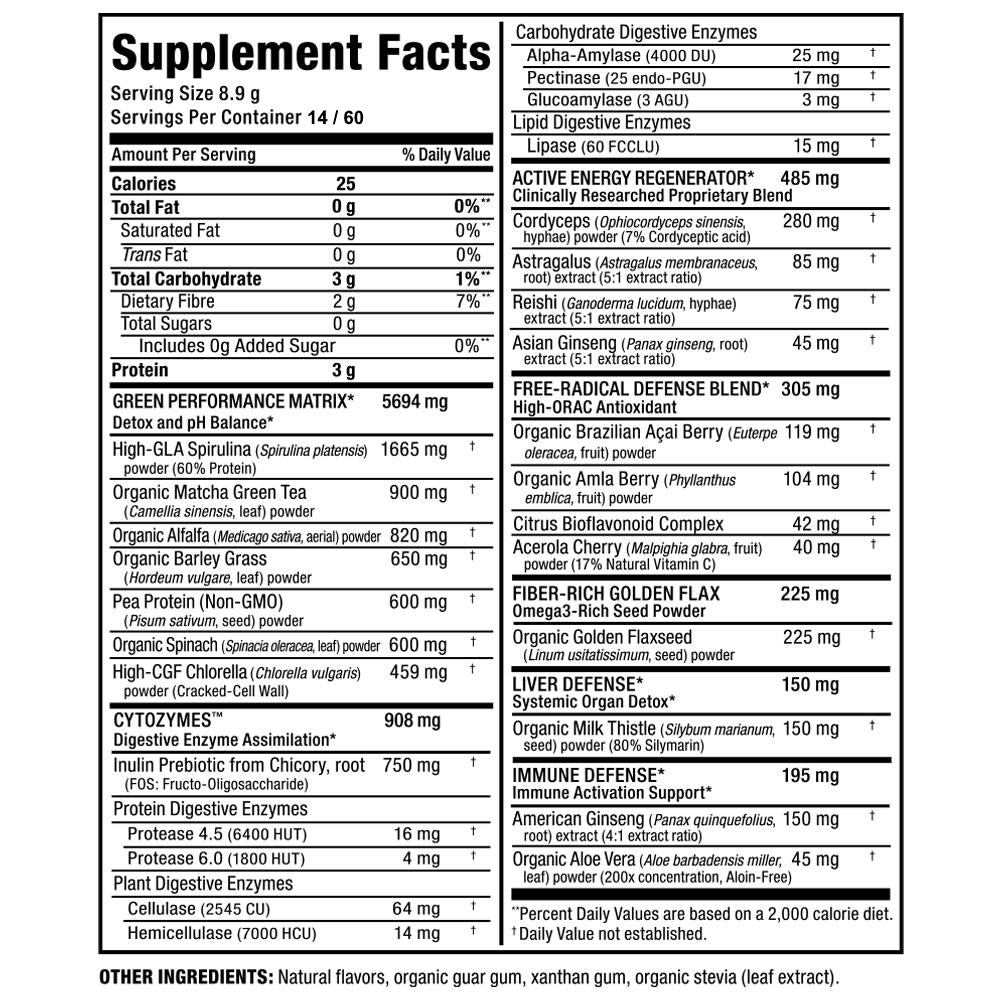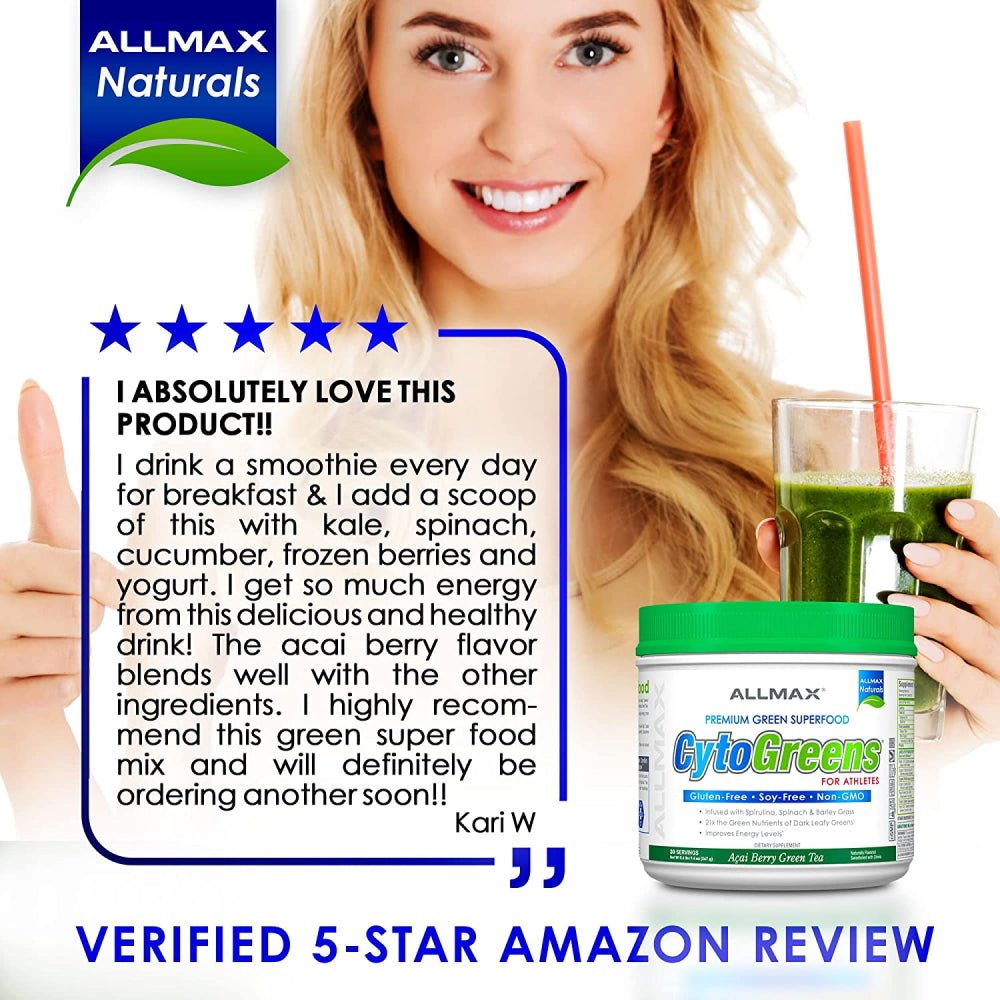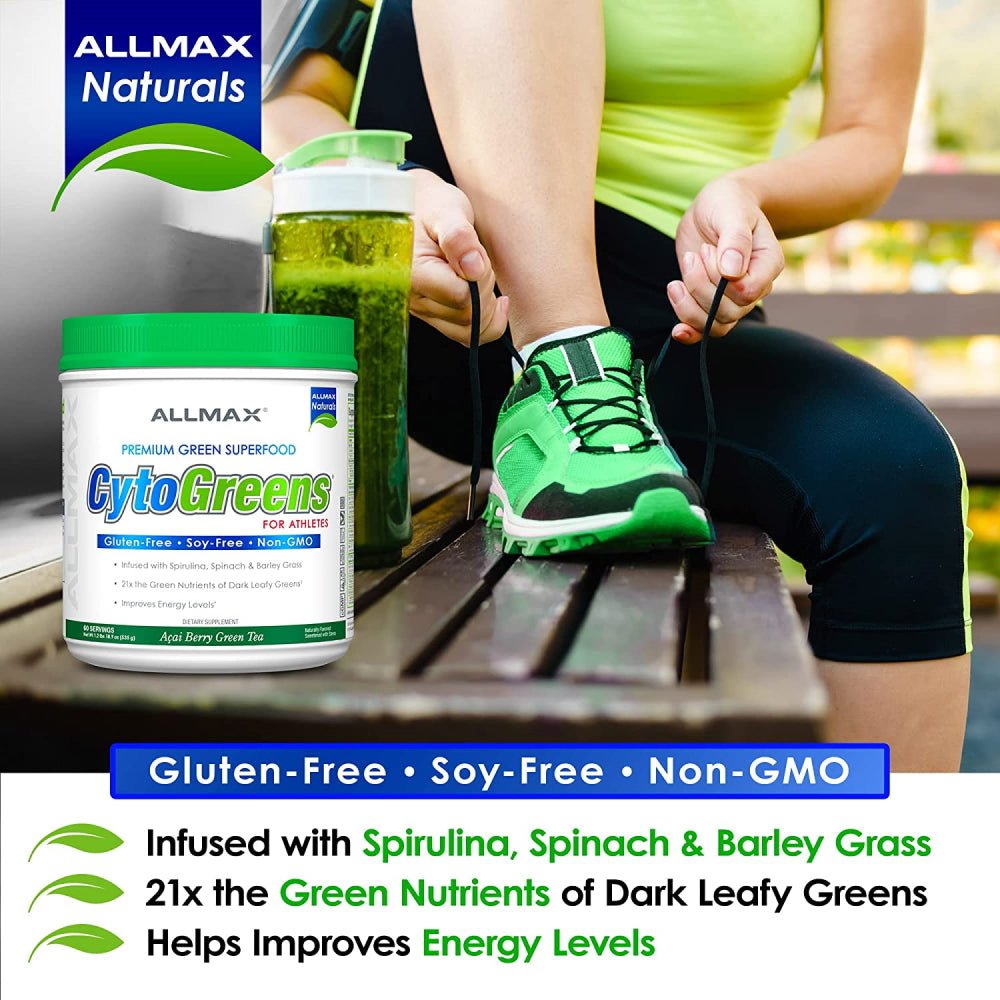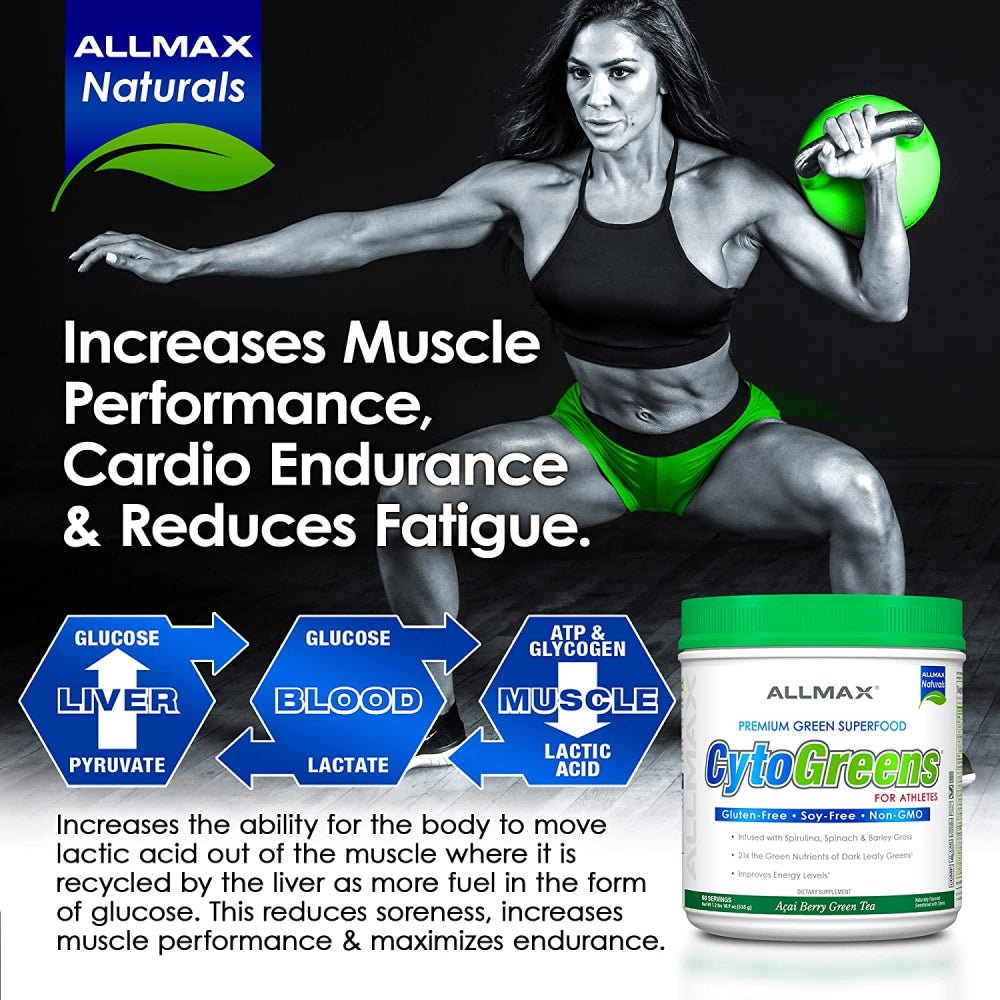 More Product Info
Expiry Date

As shown in format xMM/YY. e.g. x05/99 for best before May 2099. Our stock's expiry status are 99% accurate.
A Game-Changer for Daily Nutrition
I recently incorporated AllMax CytoGreens SuperFood into my daily routine, and the results have been nothing short of impressive. As someone who values a balanced and nutrient-rich diet, this product has become a game-changer for me.
Firstly, the taste is surprisingly pleasant compared to other green supplements I've tried. The natural flavors make it easy to mix with water or my favorite smoothie without any overpowering aftertaste. It's refreshing to find a greens supplement that not only delivers on nutrition but also on taste.
The ingredient list is extensive and includes a variety of superfoods and antioxidants. I appreciate the emphasis on organic and non-GMO ingredients, assuring me that I'm fueling my body with quality nutrients. The blend of vegetables, herbs, and botanicals in CytoGreens supports overall health and provides a noticeable boost in energy throughout the day.
One of the standout features for me is the digestive support. The inclusion of enzymes and probiotics has made a positive impact on my gut health, leading to improved digestion and reduced bloating.
I've been using CytoGreens for a few weeks now, and I can see the difference in my energy levels, focus, and overall well-being. It's a convenient and efficient way to supplement my diet with essential nutrients that are sometimes challenging to get from whole foods alone.
In summary, AllMax CytoGreens SuperFood has exceeded my expectations. If you're looking for a reliable and effective green supplement to enhance your daily nutrition, I highly recommend giving this product a try. It's become a staple in my routine, and I can confidently say it's worth the investment in your health