ALLMAX
Regular price
$84.00 SGD
Sale price
$25.00 SGD
Unit price
per
Sale
Sold out
In stock
Thanks for signing up for restock notifications!
There was an error signing up for restock notifications. Please try again.
Sign up for Restock Notifications!
• 350% More Anabolic Activity
• Optimal Ratio of BCAAs 45:30:25
• No Fillers, Zero Non-BCAA Aminos, Sugar-Free
• Additional Power of B Vitamins
• Absolutely Incredible Taste

350% MORE ANABOLIC ACTIVITY
AMINOCORE delivers 8.18g of BCAA in a 45:30:25 ratio clinically proven to provide a 350% increase in activation of muscle growth signals. The purest, free-form source of BCAA, AMINOCORE has no added fillers or non-BCAA aminos. AMINOCORE's BCAAs are 100% pure prior to flavoring. Typical 2:1:1 sources contain impurities resulting in cloudiness, oily foam, sediment, and the worst – a harsh bitter taste! AMINOCORE is the cleanest, purest, best-tasting BCAA supplement money can buy.

Why take BCAAs?
• Improves recovery by slowing muscle breakdown, repairing or building muscle.
• Better exercise efficiency and exercise capacity by optimizing energy.
• Increases red blood cell count, hemoglobin, hematocrit and serum albumin to help with performance.
• Lower fasting blood glucose and decrease creatine phosphokinase, which means less inflammation, better red blood cell formation, and better formation of storage carbohydrate.

Benefits of combining BCAAs and EAAs
• Retain, stimulate and build muscle.
• Enhance mental focus during training.
• Enhance fat burning and glucose tolerance.
• Support hormonal balance during intense training.
• Enhance endurance performance and decrease fatigue.

Stack for faster lean muscle growth and fat loss
To develop a complete physique and improve training performance, we must first be sure that our EAA levels are suitably high. The best way to do this is to take both a reputable EAA product like MUSCLEAA and BCAA formula like AMINOCORE. This, combined with a high protein powder supplement like ISOFLEX, are the keys to building a lean, muscular physique. 22

SUGGESTED USE
To activate protein synthesis and increase muscle recovery, take 1 serving of AMINOCORE during weight training or any athletic event. On non-training days, AMINOCORE can be taken anytime on an empty stomach. Due to the potent nature of this product, it is not recommended to exceed 2 servings daily. Pour 1 scoop of AMINOCORE into water and shake or stir well. Take during workouts, or anytime you want to decrease muscle breakdown and increase protein synthesis. Carefully read the instructions on the label and follow the directions before use.

AMINOCORE NOW FEATURES SCOOP-LOCK™ TECHNOLOGY!
Together we can put an end to the scourge of Scoop Loss. Gone are the days of digging through your supps to get your scoop. SCOOP-LOCK is ergonomically designed to lock your scoop into place the first time and every time! And it's right there at the top of your AMINOCORE when you open it!
Share product link
View full details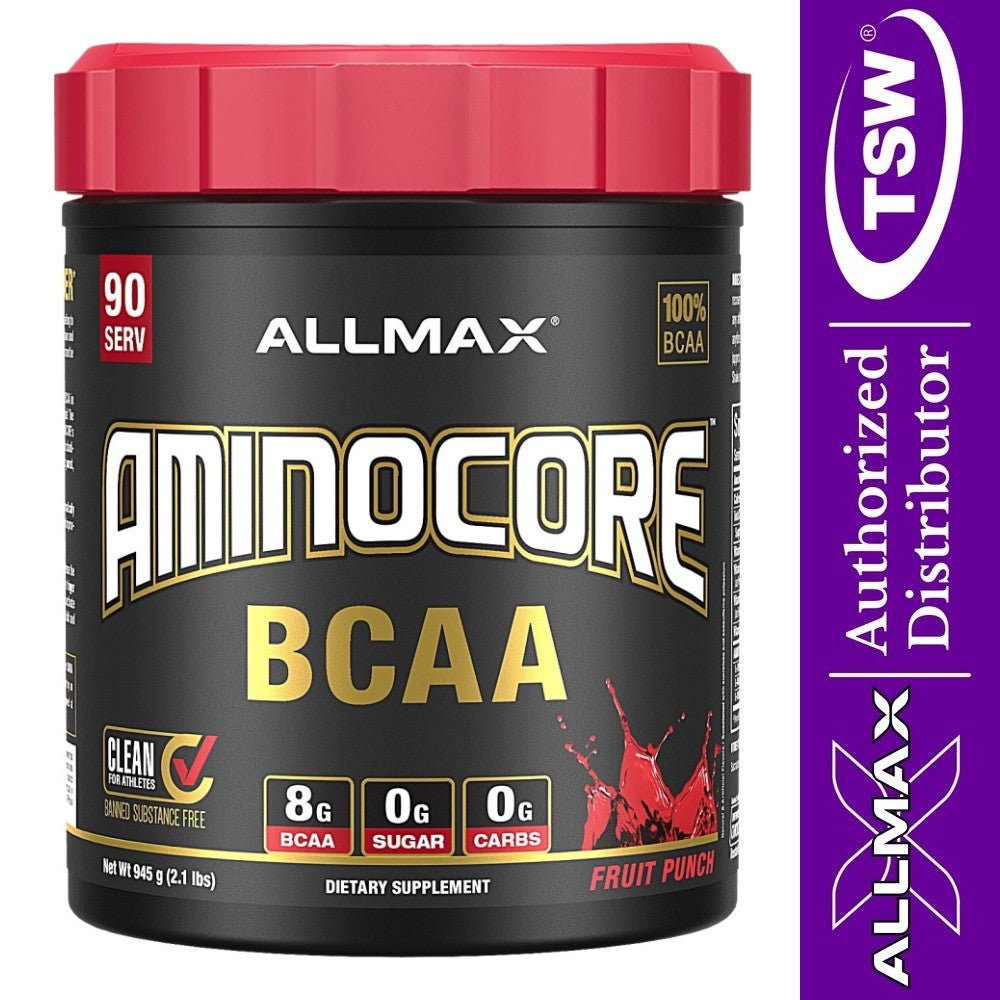 More Product Info
Expiry Date

As shown in format xMM/YY. e.g. x05/99 for best before May 2099. Our stock's expiry status are 99% accurate.
Cheap as it's gonna expire soon
Worth the money
Increase in energy & focus, taste great
Bought and tried out the pink lemonade flavoured. Mixed this product with Allmax's MuscleEAA and Carbion+ and took it during my workout and it really taste great, sweet and acidic at the same time. Never notice any significant strength gain as it was only my first day taking this but I definitely felt more energy and focus during workout and don't feel so "beat up" after my workout.
Best Tasting BCAA
Awesome taste and refreshing intra workout drink
Great
Gives me the amino energy needed for my body.